CENTRAL ERECTION AND WELDING LABORATORY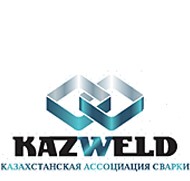 Imstalcon Joint-Stock Company Imstalkon is a part of the independent association Kazweld, which is a member of the International Welding Institute.
Having in its composition the Central Erection and Welding Laboratory, Imstalcon JSC has the opportunity to make a detailed assessment of the quality of its products.
Specialists of the Laboratory carry out the following types of work on quality control of welded joints:
Non-destructive testing methods:
X-ray examination;
ultrasonic testing;
vacuum testing;
dye-penetrant inspection;
visual and dimensional inspection.
Destructive testing methods (mechanical tests):
tensile strength;
bending;
impact.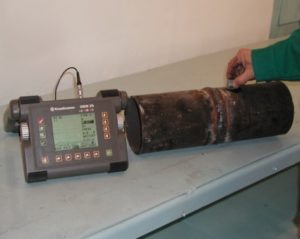 Quality control
of welded joints
Ultrasonic
wall thickness test
of steel
Specialists – examiners and NDT inspectors of Imstalcon JSC have the appropriate certificates of completion of training courses and constantly improve their practical professional level in Mangistau, Atyrau and West Kazakhstan regions.
Laboratory of Imstalcon JSC is equipped with all kinds of measuring instruments for determining the quality of welded joints by physical (non-destructive) testing methods and devices for destructive testing (mechanical tests).
For X-ray examination, the Laboratory of Imstalcon JSC has the State License No. 15014410 dated August 04, 2015 for "Handling Devices and Installations Generating Ionizing Radiation" issued by the State Institution "Committee for Nuclear and Power Oversight and Compliance Monitoring" of the Republic of Kazakhstan.
In 2016 Central Erection and Welding Laboratory of Imstalcon JSC confirmed the status of «Accredited laboratory» and obtained Accreditation certificate for performance of all types of Non-destructive testing and mechanical testing of welds.
In 2012 Attestation center of Imstalcon JSC was created at Central Erection and Welding laboratory for qualification and re-qualification of the specialists of welding operations I, II and III levels as well as specialists of Non-destructive testing by types as follows:
visual and dimensional inspection (VDI);
ultrasonic inspection (UI);
X-ray inspection (XI);
liquid penetrant testing (PNT/LD);
magnetic particles inspection (MPI).
Imstalcon JSC pays much attention to preparation and training of the personnel, especially to blue-collar occupation. Preparation and tests of electric welders on progressive welding methods are carried out at production yard of Central laboratory. Training center has been created at the yard of laboratory where training for welding on equipment of firms ESAB, Linkoln, Fronius is conducted as well as qualification of the specialists of welding operations of I and II levels.